Scholarships
The Oxbridge Ethereum Christmas Bootcamp
Would you like to learn how to develop DApps (decentralised applications)?
Would you like to work as a Blockchain/Web3.0 Developer?
Blockchain is the hottest space in modern computer science. It combines a wide array of skills from mathematics and cryptography, to social sciences and understanding organisations. Understanding blockchain decentralisation and how/where to apply it is a brand new skill that very few have mastered. Current demand for Blockchain developers is extremely high, and proficient devs will have projects and opportunities knocking on their doors! Read below to see how you can get involved in the Christmas holidays!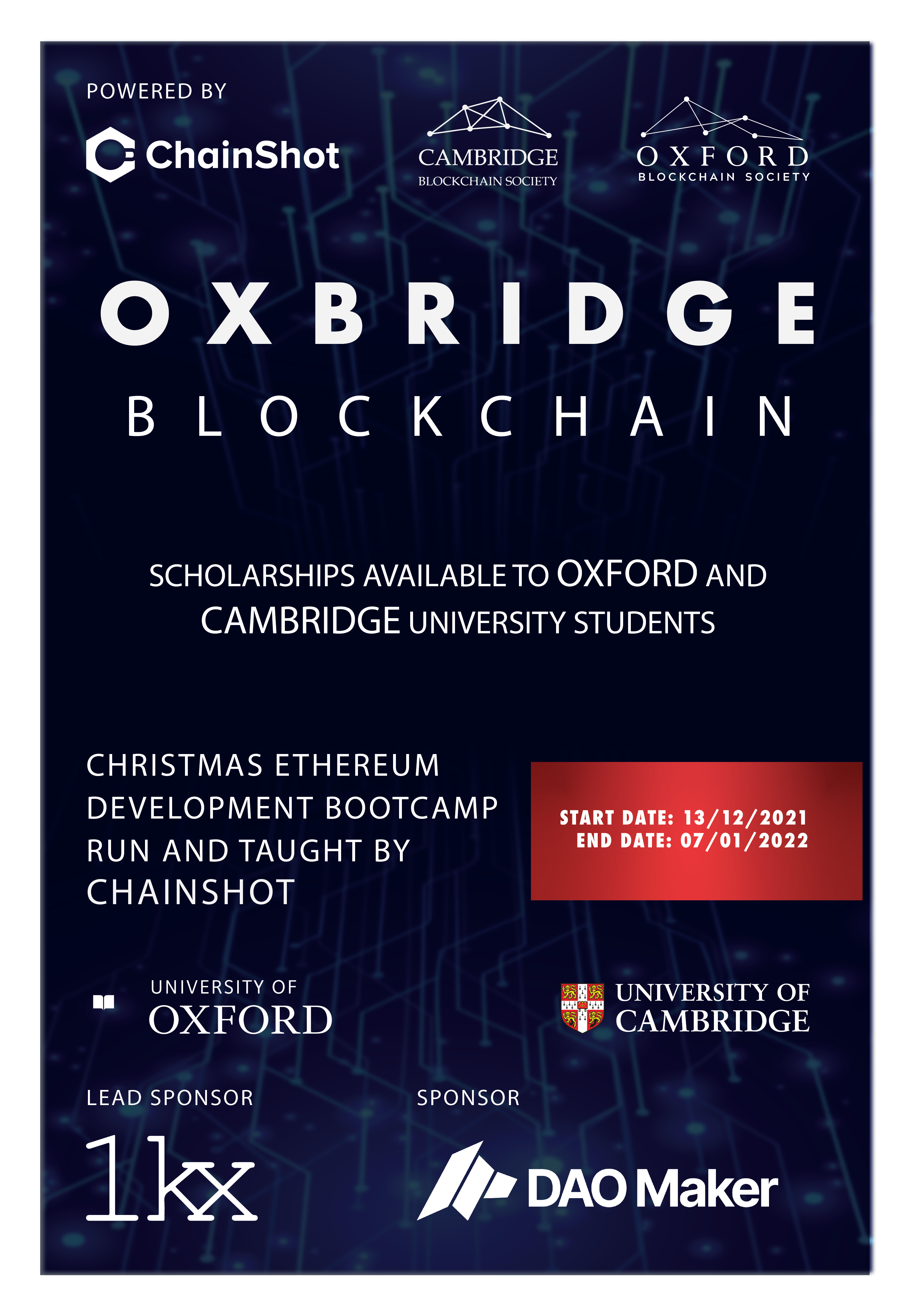 We are VERY excited to be announcing the launch of the 2021/22 Christmas Ethereum Bootcamp, delivered by the experts @ ChainShot. The ChainShot team have designed a specific 4-week cohort (
instead of their 8-week one
- do not use this link to apply) for Oxford and Cambridge students. The fees of this cohort will be covered by the brand-new Oxbridge Blockchain Scholarship for all successful applicants (more details and link to apply below!).
The 2021/22 Christmas Ethereum Bootcamp starts on Monday, 13th December 2021 and ends on Friday, 7th January 2022. Minimum work commitment would be 15h a week, with live sessions on Monday and Thursdays!
In the 4 weeks, the majority of the course will take place asynchronously using the materials created by ChainShot. These will be a combination of readings, videos and interactive code tutorials on the ChainShot site. The curriculum will cover Blockchain Basics, Intro to Ethereum, Intro to Solidity and Mastering Solidity. To view the full curriculum, please visit
here
.
Pre-requisites:
This course relies on pre-existing experience of using the JavaScript language, which allows you to build your application's backend to interact with smart contracts. It is an integral part of building Decentralised Applications. Hence, applicants with prior experience in JavaScript or those that have completed the free ChainShot JS Course, which we advertised this term, will be given preference! If you're an experienced developer that missed the signup period and wish to learn JavaScript by the end of this week, please message Taran on Discord (Taran#4989) to be granted access!
Apply
The Oxbridge Blockchain Scholarship
We are proud to partner with the Oxford Blockchain Society to announce the launch of our brand new Oxbridge Blockchain Scholarship, aimed at promoting Blockchain education at universities in the UK! This wouldn't be possible without our new Main Sponsor, 1kx, and CBS's Gold Sponsor DAO Maker.
1kx is an early stage token fund run by two former technology founders
Lasse Clausen
and
Christopher Heymann
. Its mission is to be the most founder friendly and helpful source of early stage capital for tokenized projects. You can follow 1kx on
Twitter
.
We will be covering ALL FEES for each student with a successful application for the Bootcamp.
Apply
DEADLINE: Saturday, 11th December 2021!